World Reknown Artist Cindy Jo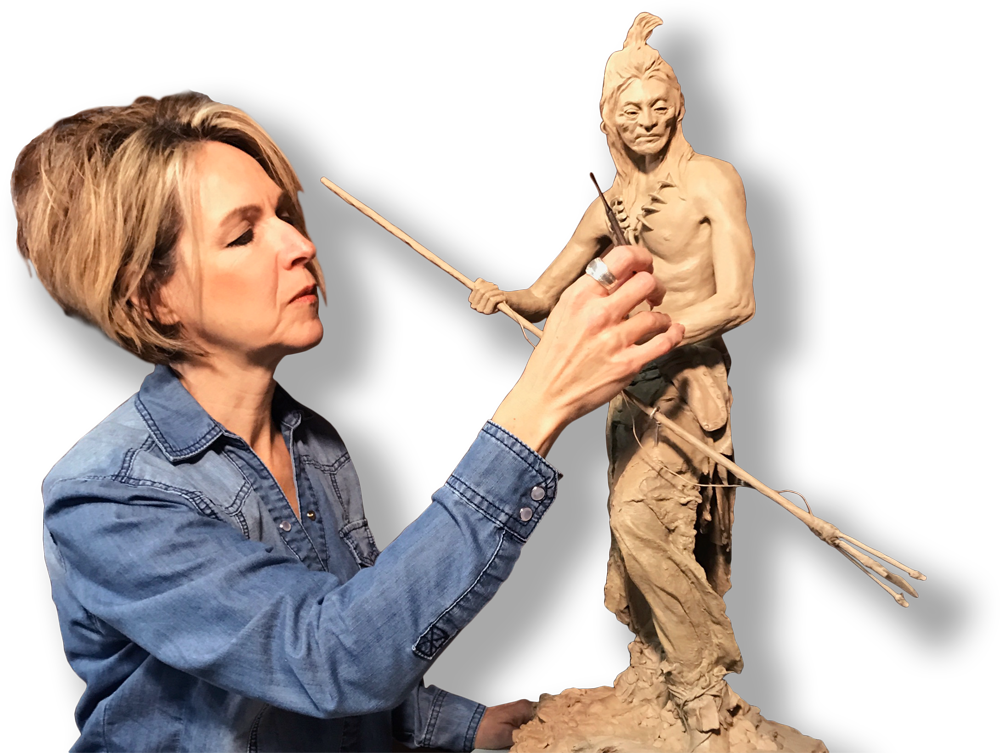 About Spirits From The Heart
   For more than thirty years, I have immersed myself in the study and creation of Native American art. My love for the narrative beauty of Native American culture, as well as a desire to honor my Cherokee heritage, has driven me to understand and represent the character, strength, and honor of Native American people. I am a self-taught artist, competent in ceramic, clay, bronze, and other mixed media, and I am meticulous in researching and understanding the subject matter I represent with each of my pieces. My intent is always to make my art speak to my audience. If eyes convey emotion, posture portrays movement, and detail portrays a story, then I know my pieces are conveying the stories I wish to tell with each one.
   My work and business accomplishments have been recognized both locally and throughout the Mountain West. I have been highlighted in magazines such as Cowboys & Indians and Western Art & Architecture, and my various awards and business endeavors have been recognized in local publications such as the Idaho State Journal and the Blackfoot Morning News. I independently owned and operated my own business, From the Heart of Idaho, where I sold my own artwork as well as that of various other local artists. I took great pride in showcasing my talents and providing an avenue for other developing artists to thrive.
   I enjoyed this commercial venture for several years before deciding to downsize my operation in favor of more time to develop my skills, broaden my knowledge, and create more specialized pieces. I poured myself into the study of mixed media, spent hours in the study and creation of three dimensional masks, developed skill in three dimensional mural art, and most recently mastered the process of bronze sculpting. Working in bronze has given me the opportunity to convey my love for the Native American culture (particularly the warrior, hunter, and chief) in new and very impactful ways. My most recent bronze pieces, Crowning of a Sioux Chief, Horizons, Big Hole, and Straight Arrow have drawn the attention of highly selective and knowledgeably collectors of fine art because of their meticulous detail, historical relevance, and conveyance of anatomical accuracy. I have found my work in this media to be my most satisfying to date for the opportunity it gives me to marry narrative to sculpture in a challenging and difficult medium.
   Art has been a part of everything I've done most of my life. It has provided me a means to connect with my heritage, thrive in business, and share my knowledge with others. Most importantly, it has allowed me the opportunity to do what all great artists wish to accomplish—convey my love for subject in a way that is memorable, lasting and honest. Art is vital to honoring our past and connecting to one another in the present. I have been fortunate to make the pursuit of development in the arts my life's passion.